Home > Vroom > Car Quest > Car Quest Blog
Car Quest
The Car Quest -- my ramblings on my quest for cars, bikes, and other things.
And the fleet shifts again, again
October 16, 2013
Recently I said I was thinking that I'd be looking for another motorcycle, and it turns out that was a prescient thought -- as I just acquired another motorcycle a fe days ago. This one is a 2013 Moto Guzzi V7 Stone. Very similar to the Triumph Bonneville I had a few years ago, but with a much larger fuel tank for better touring range. Beautiful, classic Italian style as well. Stopped by the new local dealer last weekend for a test ride and wound up signing on the dotted line and riding it home. My wife had doubted that I was done riding and she was right.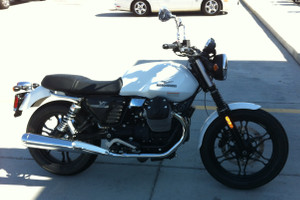 I really like my little fleet now. It's very similar to a few years ago when I had the Tunebug and the Bonneville, but even more focused on the things I enjoy. While my family doesn't believe me, I expect that these two vehicles will stick around for some time.
And the fleet shifts again
October 7, 2013
Funny how the cars come and go around here -- if my car count were my age I'd just now be legal to drink!
So after three great driving seasons I've decided to move the MGB on to someone else. Had great fun and good trips with it, including two great long weekend runs with my car club. That said, a friend tipped me off to a right hand drive Bugeye for sale and I just couldn't resist. So in came the Bugeye, and now out goes the MGB. I really am happiest with just one old car project.
I do find myself bikeless at the moment, though, as I sold the F650 early in the spring. After a season with no bike I've just about decided that I need to be thinking about getting another one. Was wondering if I could do without a bike to ride, and I'm thinking the answer is no.
I am not a collector (I really mean it)
February 25, 2012
Now I really mean it, I am not a collector. It was an interesting winter that saw my sell the Tunebug and then buy a Toyota FJ40 Land Cruiser as my daily driver -- and then sell the FJ40, and the Fit, and the BMW R/75, and then buy a Kia Forte (hatchback with an automatic) and a BMW F650GS (deal of a lifetime from my father-in-law).
Confused yet?
All came down to the simple realization that I'm a one-project-at-a-time guy, no exceptions. So one old project, one newer bike, and a daily driver. Clean and simple. It was a bit like Frink's Quality Used Cars around here for a while, but the effort paid off and my little fleet is back to where it needs to be. Lesson learned. For whatever reason I don't like having more than one project at a time, so that's the new rule. I guess you can teach this old dog a new trick.
I am not a collector
August 29, 2011
A summer with two cars to car for has taught me an important lesson -- I am not a car collector. I really don't like the extra stresses that come with owning multiple cars (and a bike). The biggest resource that was lacking was time; time to work on them, time to drive them, time to enjoy them. So after much thinking it has come down to the fact that I need to sell one of the cars.
I find myself driving the MGB more and more -- it is a car that has really grown on me. The more I drive it, the more I appreciate its particular blend of capabilities. So when the time came to pick which car would find a new home it really wasn't much of a choice. A deep breath, and I put the Tunebug up for sale. I'd like to get it to a new home before winter sets in, but we'll see how the sale process goes. This is not the best time to sell a convertible, so if needs be it can sit out the winter and I'll try again in the spring. For now, it's on the market looking for a new home.
MGB vs Tunebug -- first impressions
April 20, 2011
So I've had my MGB for a whole week now, and have maybe 200 or so miles on it. I've driven it back to back with the Tunebug on a couple occasions as well, and now have some initial observations on the differences.
COMFORT
The MGB is in another league as far as comfort goes. Less wind buffeting, far better seats, more legroom than I need (and I'm 6'1"). Shoulder room is better, too. It's a bigger car, and for comfort sake that's a good thing. Ride is much smoother too, no where near as jarring as the Sprite. Funny to think of a MGB as a large car, but it's a Cadillac compared to the Sprite. I really need to redo the Sprite seats some day, as their deteriorated condition doesn't help.
POWER/TRANSMISSION
Yes, the MGB has more power, though the Sprite is surprisingly close with the motor that Hap built for it. MGB is stock w/ Pertronix as far as I know, Sprite isn't close to stock. More torque with the MGB as well. No replacement for displacement.
Can you say overdrive? I knew you could! Absolutely transformative. 6 forward speeds (OD on 3 and 4), all useful. I'm finding plenty of times when the OD 3 is just enough lower than normal 4 to the the revs in just the right spot for road speed or a steep hill. The ribcase in the Tunebug is far crisper to shift, but really needs a 5th gear. I'm not really sold on the 3.90 either, at least in the mountains where I drive. I'm thinking the 4.22 and 5-speed would be the perfect combo.
Subscribe to this page (RSS 2.0)