Home > Vroom > Car Quest > Car Quest Blog
Car Quest
The Car Quest -- my ramblings on my quest for cars, bikes, and other things.
Am I a collector now?
March 17, 2011
Over the last six years in the old car hobby I've held to one fairly strict rule, that of the one-car-at-a-time. To be more specific, one car and one bike. No fleets of projects, no random stacks of parts cars to litter the lawn. Keep focused.
Well, as of a few days ago I have officially rescinded that policy. For a wide variety of reasons, and with the support long-suffering car widow Jenny, I decided to branch out a bit and add another car. Specifically, I wanted something with right hand drive. For some unknown reason I've always been fascinated by having the steering wheel on the right side of the car. Maybe it's all those British-based car books I read as a kid. Whatever the reason the time had come. With some financial resources set aside it was time to begin the search.
Specifically, I was looking for an MGB: convertible or GT with overdrive, no wire wheels, and definitely not a project. 1967 or earlier would be nice, but certainly pre 1972 or so when the dash changed for UK cars. I figured that with such a specific configuration in mind the search could easily take a few years so I should put the word out to my other car friends. Just a if-you-run-across-one sort of thing. Made the post on the British Car Forum (BCF) on Friday, March 11. Expected nothing to come of it.
Well, my friend JP added a link to a car for sale out of Canada (Windsor, Ontario) that seemed to fit the bill. Figuring I had nothing to loose, I emailed the seller for information that day (Friday). I also heard from another BCF friend named Dave who happened to live close to the car in questios -- he'd be willing to look it over. Heard back from the seller the next day (Saturday), and got Dave in touch with him. Dave and his wife took a little road trip the following day (Sunday) and looked the car over, sending me pictures and a detailed report. I called the seller, we chatted for 20 minutes or so, and I agreed to buy the car. All of a sudden, a possible multi-year search was over in three days.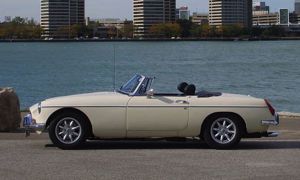 Main photo from the ad
So now I own another car I've never seen, and that is in a foreign country to boot. Figuring out how to pay for it was the first complication (PayPal was the eventual choice, pricy but quick). Now I'm deep into sorting out paperwork for the shipping company I choose -- they will handle the customs process but need quite a bit of info from me. It's an adventure for sure!
The Droobarn Project
November 30, 2010
I'm officially out of garage space.
This is not surprising, as we have a truck, two cars, and a motorcycle all stuffed into our standard suburban garage (about 20'x20'). Now a sane person would first think that 4 motor vehicles are really too many for just two people -- especially in light of the fact that one of the people (Jenny) can only drive one of them...
As sanity is overrated, we've (okay, me with Jenny's ascent) have decided to add to our existing garage space. The most likely option is that we'll add an additional outbuilding where the fire pit sits on our property. We'll never use the fire pit so this is just wasted space at this point.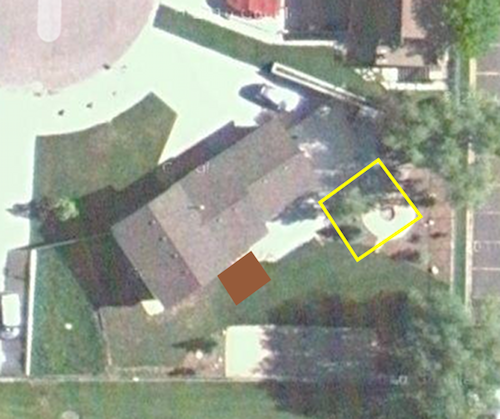 Yellow box is the proposed location, brown box is the new deck
I've done some talking with the city about zoning, setbacks, and building codes and it looks like I've got enough space to put about a 20'x20' garage in this space. That would roughly double the existing covered parking and give me a great space for a workshop. It would eventually be insulated and heated so that I could have a workspace for the long Utah winter. Sounds like a plan to me!
I've started a thread over at the Garage Journal forum for the planning process, so hop on over and follow along.
Missing my old Land Cruiser
November 27, 2010 10:05 am
When it comes right down to it, I miss my old Land Cruiser.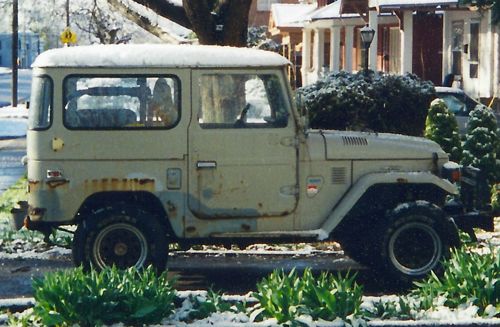 My old 1976 Toyota FJ40 circa 1995
Why have I started to think about this old truck? After all, that was nearly 15 years ago, and it was noisy, slow, not exactly watertight, and leaked quite a bit of oil. Oh, and the heater was a bit slow to warm up the truck, usually taking the entire commute to work before warming up. Rusty too.
Well, as I've been convalescing from my ankle surgery I've been thinking about my ramblings into the Utah desert, and how it may be time to own up to the fact that I really don't enjoy doing them on a motorcycle as much as I thought I would. It's not just the broken ankle talking, either. Crashing aside, I really just not a big fan of riding in the dirt. I don't like the way the bike feels or reacts, and there is that crash potential that is noticeably higher off road.
All of this got be thinking that maybe it's time to get another 4x4 for myself, or at least a car with an automatic transmission so that I could swap with my wife (who can't shift) for a weekend trip. That led me back to my old Land Cruiser.
The Land Cruiser was the first vehicle I ever bought (the Ford Escort was graciously given to me by my parents when I graduated), and the first vehicle that I really wanted to have. Something about it really spoke to me, and I enjoyed driving it. Sure, it leaked a bunch but the only times it let me down were more due to my issues with bad wiring than with the truck itself. Drove it year round for about two years before finally giving in to the fact that I had no garage and few tools. I did swear to have another one someday when I would have time and space for it.
Well, I'm starting to think that the time may be approaching. Jenny and I commute together to work so it wouldn't have to be used every day, just when I have shows or meetings elsewhere. Most of the summer I'm on my bike anyways, so my car just sits. No, it's not the most practical thing, but I'm not sure that practical is really what I'm after right now. We're in a position where it could be afforded, so I'm working through the issues.
So we'll see -- but I do miss that old truck.
Screws
November 2, 2010 1:07 pm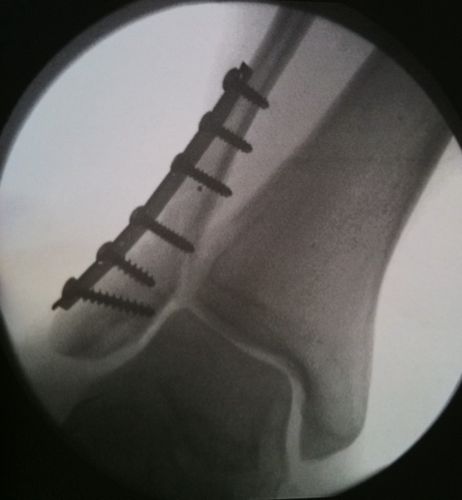 The mechanical Drew
Well, looks like I'll be another four weeks off the ankle. Saw the doctor today, and all is progressing nicely -- but I'm to keep off the ankle for another four weeks. It's a hassle, but I do want to heal properly so that's the way it is.
Weather is nice here, which at least means I can enjoy a bit of time out on our new deck, soaking up as much sunshine as possible before the snow really comes in.
Joe's help getting everything around here winterized was greatly appreciated. The Tunebug and BMW are snugly in the garage, and the snow blower is out and ready for use, with the rest of my big auto tools (engine hoist, floor jack) out in the shed. Still hoping for a late winter, but at least we're ready.
The season's end
October 23, 2010 9:50 am
Well, it's really the end of the summer driving/riding/hiking/walking season for me.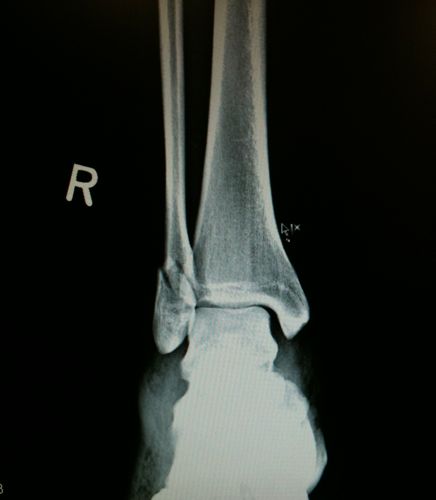 Yes, that's a broken right ankle. Had a bit of an off on a dirt road on my father-in-law's BMW 1150GS motorcycle. Hit some deep sand and couldn't make it all the way across the section. A low-side crash with just enough ankle twisting to cause trouble. A good reminder to always wear your gear, though, as I was otherwise unhurt thanks to my riding suit and helmet.
Luckily, someone came by a few minutes later and helped me get the bike upright and pointed in the proper direction. I was able to ride out and get to hotel and an ice pack. A few days later I was in surgery at the University of Utah Orthpedic clinic, and now I'm under doc orders to keep the leg up all the time. I'll have to get some help winterizing the Tunebug and R75/5, but it is the end of the season so at least I didn't miss too many good riding/driving/hiking days. Just have to be good this winter and get everything healed up before next spring.
Subscribe to this page (RSS 2.0)