Home > Vroom > Past Vehicles > 62 TR4 > Selling the TR4
1962 TR4 Sold!
My TR4 is now ready to head off to a new life in Canada. I'm sad to see it go, but hopeful that it will have a better future ahead than I was going to give it.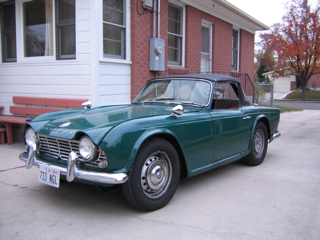 >>> Click here for photos of the car <<<
I bought it in August of 2004 from a woman in Portland, Oregon who had already done some work on it. She had a nicely restored MGB and some cool old bikes in her garage, so I have pretty good faith that she knew what she was doing. The car came from eastern Oregon, and has been in a state of restoration for some time.
PO (previous owner) claimed to have done this work:
New battery, wiring harness, starter and solenoid, horns, transmission tunnel, radiator, 5 tires, overdrive wiring and solenoid (still in box)
Carbs rebushed
Suspension, hydraulics, differential rebuilt
Alternator conversion--doesn't really work. I'm working on this right now. I think the bracket is not quite right, and the belt too loose.
Includs a bunch of miscellaneous parts, including a new gasket to go between the windshield frame and the body, and some of the trim bits.
Body
Overall, the car is pretty solid. Outer panels are clean, only bondo I found was on the inner side of the right rear taillight fin (magnet doesn't stick). Floors and sills are bad and need to be replaced. Included are new panels for the inner sills and one of the outer sills. There is some other rust around there as well, in the bottom of the B pillars, and some in the foot wells. The rest of the car seemed fine. 2 dents are worth mentioning, in the front valence and one in the back valance. Paint is 20' at best, really just there to keep the outside from rusting.
Top is in decent shape, also includes a tonneu cover that seems to have shrunk, since it fits the rear attachments but won't reach the front ones.
Trunk is good, as is the boot lid. Bumpers a little dinged but decent. Wheels seem okay, might be a bit out of balance (shimmies a bit at 50 mph).
Drive Train
I've got the heritage certificate, and the engine is not original to the car, though it is from the same period. The transmission is not original either, and has an overdrive. Most of the wiring for the overdrive is in place, but I never hooked it up so I can't say if it works or not. A new, still in the box solenoid for the overdrive is included.
The engine runs strong, with decent oil pressure. Engine temperature seems to be within reason as well. Car started fine in the summer, is a little more reluctant now that it is freezing cold.
Interior
Interior is essentially not there. Door panels are plywood--I have some used ones that go with the car, but they're not in great shape. Dash has the wood overlay, needs the outer soft trim bits. The center switch plinth is not in great shape, but I do have another one. I also sourced the radio blank plate and the dash brace (used, in okay shape). Seats are not great either; really they're lousy. I was planning on sourcing other seats. No carpets or interior panels to speak of. Gauges work except for the speedo. PO said the cable was bad, so I bought a new cable but haven't installed it yet. Wipers work as well (well, at least they go back and forth).
Documentation
The car passed the Utah safety inspection, and has current Utah plates. I have a clear Utah title for it, as well as the Heritage Certificate, owners manual, and shop manual. The car is titled as a 1963 model, but according to the Heritage Certificate, it was made in August of 1962.