Home > Vroom > Past Vehicles > 59 Sprite "Tunebug" > The Tunebug
The Tunebug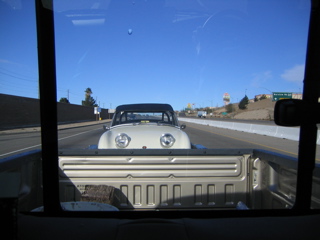 In March of 2006 I brought home another little British car, this time a 1959 Austin Healey "Bugeye" Sprite. These are great little cars, and I do mean little! It makes my old Triumph TR4 look big. Lots of charm and character, and this time I found a car in good shape. There was some work to do, but I was able to drive it a bit for a year or so before pulling it off the road for some much needed mechanical updates.
The Vision
Every old car project needs a vision, some guiding principle that will shape the work done and the money spent. Old cars eat money and time like college students eat free pizza, so it's imperative to spend your resources wisely -- especially if you're a normal sort with a limited amount of funding and available time.
Of even more importance is the focus this vision brings to the project. There are so many directions you can take an old car that you could easily succumb to option paralysis and wind up going in no direction at all. Your vision picks a subset of all the options, and discards the rest. There's no wrong direction here, just the one that is best for you.
So with that preamble out of the way, here's the vision for the Tunebug: Keep the vintage spirit alive
Tunebug will be a slightly modified car. My personal preference is for originality, tempered my my desire to get out there and drive. I want to keep the vintage feel of the car, and use as many original parts as possible. I'm keeping to the spirit of someone who might have owned this car new, and wanted to hop it up just a bit a few years after buying it. So the upgrades are at least period correct in spirit, if not in actuality.
Visually, the car will look completely stock. That means the original steel wheels, white paint, black interior. No radio, stock seats, vintage-style steering wheel, original gauges. A casual but knowledgeable Sprite enthusiast should not be able to tell anything has changed.
The modifications will all be mechanical in nature, and related to better drivability and all around use. They will use either modified original bits, or later Spridget pieces that are better replacements. The main goal is to keep the feel of the car as close to original as possible, but make it go faster and stop better. This makes for the following list of modifications.
1275 A-Series motor, built by Hap Waldrop at the ACME Speed Shop, good for around twice the original power rating, with far more torque
Twin HS2 SU Carburetors
Later ribcase 4-speed transmission
Disc front brakes, using a rebored original-style master cylinder
3.90 rear end
That's it, really. The only real departure from original is the motor -- disc brakes and a close ratio gear box (same ratios as the ribcase) were offered as add-ons by the Healeys when the car was new. I'm using a different implementation, but a Bugeye in 1959 could have had those features.
The motor is a different story, to a certain extent. The 1275 is a later version of the original 948 that came with the Bugeye, and is visually quite similar. A casual observer would not be able to tell the difference between the two motors, and the 1275 bolts right in.
The last part of the vision is that any modification should be reversible, no cutting required. Tunebug is quite an original car still, and I don't want to harm that. Everything on my list is reversible if I (or a future owner) ever wanted to. I'll keep all bits that come off, stored up against some future time when I might want them.
This is a very common plan for a Bugeye; I'm not blazing new ground here, and that's just fine with me. I'm learning as I go, and that's challenge enough. Most of all, this is a plan that I can follow and complete with the time and funding that I have available. Got to get out and drive -- after all, that's what these cars were built to do!