Home > Vroom > Past Vehicles > 74 MG Midget > Selling the Midget
Midget Tub
>>> This has been sold <<<
After a few months of prodigious stripping, I've got all the bits off of the MG that I wanted to take. What remains is the body dub, which is in really good shape. I didn't spot any rust-through, though there is some surface rust in places. The yellow paint is not quite as good as it looks in the pictures. I'd want to repaint the car if I was to rebuild it for the street.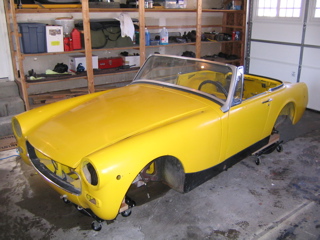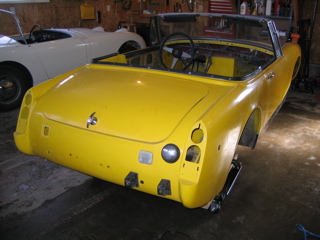 I still have a few bits to pick up from the previous owner, but the tub is the main thing I'm looking to get rid of right now. There is a title, but I haven't seen it yet, so I'm not sure if the VINs match. There is a VIN plate on the MG, so getting it titled shouldn't be too difficult. I'll be meeting the previous owner in early February, and will be picking up the additional bits and the title then.
If you are interested, you can email me at web@drooartz.com. I'll entertain all offers, including interesting trades. I've got a 1959 Bugeye, so bits related to that are always welcome. I'm not expecting a fortune from this tub, just want to make sure it doesn't get crushed.