Home > Vroom > Past Vehicles > 07 Triumph Bonneville
2007 Triumph Bonneville
This bike has now been sold. It was a great bike, and good fun to ride. Just time to try something new.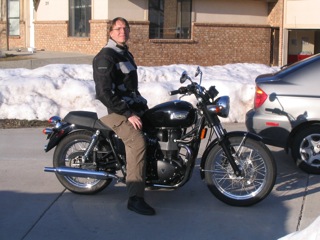 I've been interested in the ressurected Triumph motorcycle company since I first heard that they were back in the late 1990s. The bike that really got my attention was their new Bonneville, introduced in 2001. This bike seemed to me to be the perfect blend of classic style and modern mechanicals, with the benefit of some history behind it. Not a truly retro bike, but more of a continuation of the old bike, as if it had just been updated throught the years.
This seemed to me to be the perfect bike -- though I never bought one. Thought about it, and even bought a Kawasaki W650 at one point (a clone of this bike, of sorts). Fast forward to the late winter of 2008, and I was once again without a bike and on the hunt. After toying with the idea of an older BMW airhead, I settled on finally pursuing the bike I've been after all these years.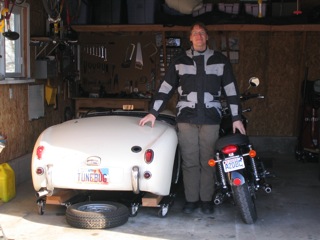 A deal came up at my local dealer for one of their 2007 demo bikes. This bike has around 3000 miles, a full warranty, and a full dealer service history. While I prefer the lovely Goodwood Green bikes, the black was always my second favorite. A fair price was reached, and I signed on the dotted line!
I ordered a backrest/luggage rack from NewBonneville.com as my first and only modification for the first year. Now it's time to put on the miles!