A few years ago I found out that my friend Dan Bills had started making guitars. Dan is a fabulous cabinet maker who worked with me when I worked at Joel Haynes Exhibits back in the mid 90's. I played a few of his early examples, and they were quite good. I knew I wanted him to make me one, but I had to put aside some funding first.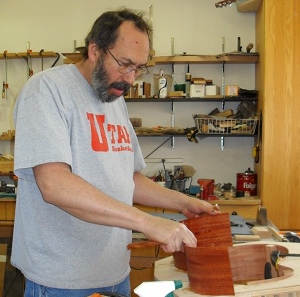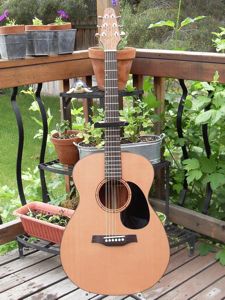 Dan Bills hard at work, and the final guitar
In early 2009 I was finally able to place my order. This will be the first guitar that Dan has ever sold (though not the first he's made). Here's the specs:
OM style body, slightly deeper than Dan's early versions
Mahagony back and sides with a cedar top
Ebony fretboard and bridge (not dyed to keep the natural grain of the wood visible)
Snakehead-style head stock
I picked up the new guitar the morning of June 20th, 2009 and brought it to my gig that same night -- right to work for the new guitar! It performed admirably; I think it's going to be a great addition.
Here's a short sample of the new guitar, recorded using an AKG C3000 at the 12th fret and the K&K Pure Mini pickup. No EQ used, just a bit of reverb.