Home > Vroom > Past Vehicles > 70 MGB
1970 MGB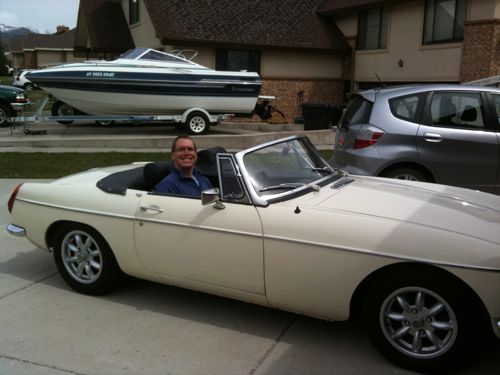 I've had a long running fascination with right hand drive cars. I used to make my little Lego cars all right hand drive for some reason. Maybe it was all the UK-based car books I was reading -- who knows. As I've gotten into the old car hobby I've been envious of folks who have managed to find a right hand drive car here in the states.
So over the winter I decided it was time to track one down. Not as a replacement for the Tunebug, but as a compliment. I only really had one car in mind, a MGB. Slightly bigger than a Sprite, the MGB was made in the same factory in Abington, UK as the Sprite. In then end I guess I'm just an MG man.
Having decided to hunt down a right hand drive MGB (or the closed version, the MGB GT) I posted a note on the British Car Form saying that I was in the market for a right hand drive MGB, but in no rush. I figured it could take quite a while to find one, years maybe, as they're fairly rare in the USA. One of my friends replied with a link to an ad for a car, one that was posted just that same day. Another friend noted that he was close to the seller, and could check the car out for me. This was on a Friday.
On Saturday I heard back from the seller and got my friend in touch with him to arrange to look the car over. On Sunday my friend looked the car over and sent me a report and some pictures. I called the seller and a deal was struck. Took three whole days. So much for taking my time!
The car is a 1970 (built November 1970) MGB and is originally a UK-spec car. The seller has it's full ownership history, going back to the first owner in 1970. It's equipped pretty much as it was originally, and is still in its original color. It was imported from the UK to Canada in the mid 1990s and underwent some restoration at that time. Since then it's been in Canada, which is where I found it.
The car is a driver, and shouldn't need too much work right away -- just a basic tuneup and a few adjustments for the altitude difference. Should make a nice compliment to the Tunebug, though I'll have to find a place to keep it. Time for a rental garage!