Home > Vroom > Past Vehicles > 62 TR4 > 62 TR4
1962 TR4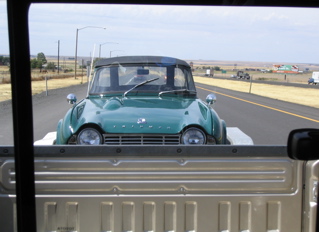 It followed me home
My car search took me through all sorts of books, test drives, internet groups, and car clubs. I wanted to make a good choice, so I'd have a chance to succeed and have fun with my new friend. I also was ready to get on with it. I had my short list together, and it was time to find a good deal.
I had a good line on a 1967 Spitfire, but it wound up selling before I could get it all together. Then this 1962 TR4 came up in Portland, Oregon. The ad looked honest, talking about the work done and the work to do. A few small pictures were provided and looked good. A chat with the owner left me feeling good about the car, so I made an offer (via email). A few nervous hours ensued, and I got a reply that it was accepted. I was to be a TR4 owner!
A U-Haul trailer was arranged, and a truck was borrowed. Jenny and I drove out on Sunday (about a 12 hour drive from Salt Lake City). We looked over the car on Monday morning, and it looked like it had been described. Much work to do, but all seemed doable. So we loaded the car on the trailer with the helpful assistance of the seller and her friend, and headed back for Utah.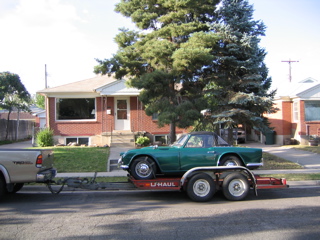 Since it came home
We made it back to Salt Lake City in one long day of expensive gas and freeways. Both of us exhausted from driving, but glad to be home in one piece. The next morning we unloaded the car and the great adventure had truly begun.
Since that day I've done just minor fixing, gathering some of the missing parts. The car is remarkably complete for how long it has been under restoration. The seller had the car for 9 years, and the previous owner had pulled it out of a barn in eastern Oregon. No real idea how long it has been since the car was last fully on the road, but I figure it will be at least a year more until it is truly road worthy again. It needs new floors and sills, and a few other bits of rust repair. A true adventure for someone who has never done this before.