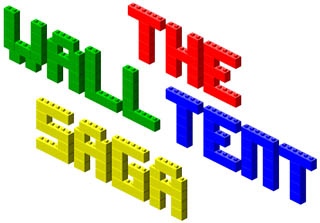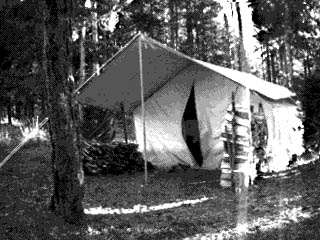 Selections from the wall tent journal of Andrew Frink
This is the complete version of the wall tent saga, part 1. Will there be a part 2? Time will tell...
---
Tuesday, September 15, 1998
The wall tent saga begins. Yesterday Bryan and I (and Angie) went to Kirkhams and picked up our new home--a 12'x14' Heavy-duty wall tent. The first task was to carry it out to the Love Bus--man those poles are heavy! Bryan and I resolve to kep campsites accessible on the spot. We immediately set the tent up in Dianne's back yard--I think that the neighbors think we are vagrants--and quickly wished for instructions. Frame up, tent over, frame down (tent still on), swap poles, tent up. Shouldn't be hard now that we know where it all goes!
Put the floor in (heavy tarp and outdoor carpeting) and installed the stove--purchased earlier--and enjoyed a celebratory slurpee provided by Angie. Set up the Cabana (canvas outhouse enclosure), threw a duraflame in the stove and slept out to break it all in. Uneventful first night except stove is hot--had to open door and window. Bryan sees flashlights outside. Admirers perhaps?
Today finds us putting the finishing touches on our little wall home. We added rings on roof and wall poles to attach stuff--coats, lanterns, etc.--and put truck organizers on 2 poles to store stuff. Also attached was a fire extinguisher; I was, after all, a safety guy. Stove base is started--measured a little too small so we will reengineer it to work before we head for the hills next week. Put away most everything except main tent. We hope to throw a tent party before we leave town.
Wednesday, September 23, 1998
Just finished a rousing breakfast of Raman and granola bar. We set up camp in a pre-existing site on a ridge overlooking Pine Valley in the Wasatch-Cache National Forest outside of Kamas, Utah. We found this site in the early afternoon and just couldn't resist. Beautiful view, premade firepit, minimum new impact. And it is secluded enough (off of a 4x4 road) that we shoudln't be bothered all winter. At least that is our hope. So a new home we have.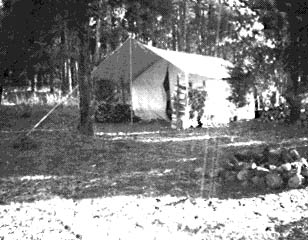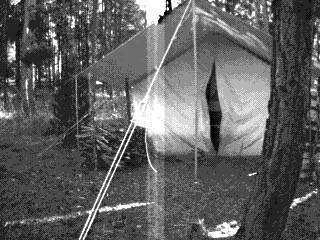 A couple of tent shots
Thursday, September 24, 1998
Today's dilema is one of chainsaws. To be warm, you need fire. To have a fire, you need wood. To have wood, you need a chainsaw. Bryan's chainsaw has been the cause of a little grief today. We got all the necessary oils for it but when Bryan was trying to adjust the idle (so it would) the saw got all out of sorts--then the starter rope broke. So we are temporarily sawless. One way or another we will fix the saw (or replace it) on Saturday. I think I may grab a bow saw as a backup implement as well. Hate to rely on things that could stop working.
The transition to life in the woods has been a little harder than I originally expected. I think that if I had gone here right from Portland it would have been a lot easier. As it was, I got used to modern amenities and the easy life. It will take me a few more days to fully get into the swing of the simpler life.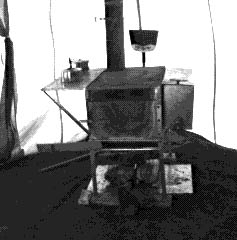 The mighty stove
Friday, September 25, 1998
Just had the privelidge of the first mountain shower. We use alarge basin to stand in and a garden sprayer that pumps up to give pressure. Water is heated on the woodstove in the water tank on the side. Wet down, lather, rinse. Nice and easy. Hair washing is done after. We hung a curtain for privacy. Showering is done next to the stove for warmth. First run of the shower system worked very well. We will now be clean mountain men! Yet more proof that this can be home and not just camping. We will be so clean for the big city tomorrow!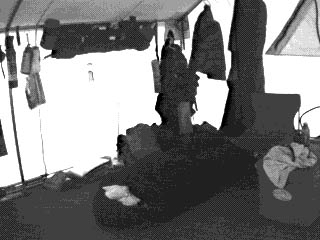 Bryan's side of the tent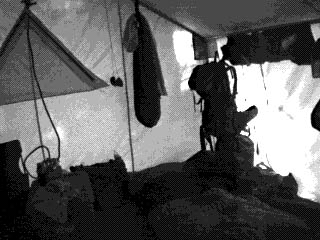 My side of the tent
Saturday, September 26, 1998
Just finished my first song of the wall tent period. It is called Speak. The words are based on a poem I wrote in 1996 of the same name. I was twiddling the old guitar a couple of days ago and came up with a nice groove and these old words popped into my head. I have been intending to add music to them at some point--seems like the some point was now.
Trip to SLC was fruitful. Came back with a chair and some raman and some new books from the library, which is now my favorite place to go for free entertainment. Bryan stayed in town to talk to Angie so I have the tent all to myself tonight. It is actually sort of nice. Did give me a chance to finish off that new song, at least. Sure seems to be a fertle writing period for me. I guess finally accepting that I am a musican helps. It's what I do. Yipee!!!
Friday, October 2, 1998
Much has happened in the days since I last wrote. Bryan and Angie wound up with major car trouble and stayed in SLC longer than anticipated. This allowed Bryan to make some calls and buy himself a $500 junker truck. He is in SLC right now getting it to pass so it can be registered. we used it on Wednesday to get a load of wood from nearby. Worked well. Picked up a few more pieces of gear (and returned a few). I just can't handle less than the good stuff.
It is another beautiful day here in Pine Valley. I am down on the North Fork of the Provo River listening to the wonderful water ripple sounds. Definitely one of the more pleasing sounds.
Replaced the cell phone with a pager. The cell just didn't work up here. The pager (w/text) seems to work just fine, and is a lot cheaper to boot. Even with the cost of calls it is cheaper. And you do not have to call in to get messages. Just what we needed.
...I am now at a lake that I found using map and compass. My first navigational success!. Actually, this is the second lake I found. the first, smaller, is due south of here. Finding this second one was a test to make sure I had found the first correctly. What a sense of elation to actually prove a skill correct. I am going to complete my navigational journey by looking up another lake and then finding Boulder Creek and heading home. What a fun backyard I have. more free entertainment!!
Saturday, October 3, 1998
And into winter mode we go. While Bryan was in SLC doing truck related stuff it snowed up here. Not much, but definitely snow. We moved the van down to winter parking off the main road so that it will not get stuck up here. Tomorrow we will winterize the rest of camp so that when the real snow comes we will be ready. Who knows--the real snow could be tomorrow. This is the mountains after all and one can't be too careful up here. There is no room for bravado in the mountains--the mountain always wins. Without fail.
Sunday, October 4, 1998
Well, winter really did arrive last night. We woke up to about 2.5" of snow and cold. Seems it was a good idea to move the van last night. We got the truck moved as job #1 (so it wouldn't become a permanent lawn orniment) and went to the grille for some breakfast with Angie. Afterwards, Bryan went to get a new brake master cylinder and I ran a few errands in town and went to a movie with Di, Joe, and Michelle. We saw the new Robin Williams one. Good flick. Course, I'm always a sucker for a romance.
Took a risk and drove the van up the hill one last time to unload the food and such. All went well--and fast. Did not want to get the van stuck. Only major casualty from the snow was the front pole on the rainfly--it snapped when I first tried toshake the snow off. Oh well, time for a replacement. winter is going to be very pretty up here. Just the light snow we already have is quite nice. And the tent is warm. Toasty even. Really feels more like a cabin than a tent. very homey--which is good since it is home.
Got the food tent moved and the two food cases in place. Tomorrow I will stack the wood and finish the winterizing.
Thursday, October 8, 1998
A nice quite tent evening after a couple of hectic days running back and forth to SLC. Bryan finally got the truck finished, so it is now legal and reasonably safe. Most of the snow is gone from up here--it has even been warm for a change. No complaints here. Firewood gathering is proceeding reasonably well as well. All in all we approach winter from a fairly good angle.
It is hunting season up here now. Saw a couple of unfortunate by-products of hunters already. The first is trash--bottles and cardboard--yuck. the second is senselessness. Bryan and I buried a porcupine that had been shot inthe head. No real reaon for that except stupidity and useless aggression. Makes me not very proud of my fellow man.
Saturday, October 10, 1998
REI sale was fruitful, if expensive. All left to acquire is snow transportation, probably in the form of ski boots for my telemark skis. At least I now know the extent of the fiscal damage and can move on.
Angie has the privelidge of being the first visitor to camp barefoot. Fitting, since her discount bought 25% of this little home. I'm sure Bryan enjoyed the visit, anyway.
Tuesday, October 13, 1998
The extra free time I have seems to make me read even more. I have devoured more books lately than I have read in a while. Just finished a great little book called "Retreats." It is all about the little places that people build to escape to. It has greatly sparked my interest in building the little cabin I want to build. There are some great ideas in there, alnog with a good long list of sources to get more information. The dream has started--isn't home ownership one of the facets of the American Dream?
Wednesday, October 14, 1998
Went for an athletic hike today. There is a peak across the valley from here that has been bugging me since we set up camp. It seemed necessary to climb it. So I did. The total hike was about 7 miles round trip and entailed a straight-up-the-side hike up along with a more leasurly trip down the ridge. Some _very_ steep sections. It is about 2000' feet of elevation gain over the course of about a mile of land distance. Up. An invigorating climb with a nice view at the top. And now I can claim connection with that (locally) towering peak. My first peak in quite a while, and more still to do here.
Friday, October 16, 1998
Note: 1 pack of Top Raman is plenty, never try 2 at a time.
Saturday, October 17, 1998
Got my water filter today. I now have most all of the necessary backcountry gear. Can't think of any other items that I don't have covered. This is a good thing as winter approaches. The only other major equipment is either ski boots or snowshoes and possibly a better sleeping bag--we are just going to have to test the heat-retention of this system to see.
Sunday, October 18, 1998
Had my first taste of purified water today--didn't taste too bad. A little plasticy, but that should fade as the water filter gets used more. Took a nice little walk down to the valley floor and sat in the sun and read Emerson's "Self Reliance." Emerson is really striking a chord with me right now. His exhortation to be your own person is just what I am trying to do right now.
Wood gathering is proceeding nicely. We made a good haul today. I estimate that we have almost 2 cords in. We probably need twice that much to get throught the winter, but there is still more time before we are snowed in, and plenty of fallen trees to harvest.
I have so far avoided being shot at up here, which is somewhat of a miracle. Hunting season is in full swing and there are just enough crazies in the woods with guns to give one pause. Plenty of those nuts will shoot at anything that moves. Anything. I wear lots of bright colors anytime away from camp. These few nuts give the reast of the hunters a bad name.
Thursday, October 22, 1998
Been down here in SLC most of the week getting some new (and old) songs ready for copyright. The old Mac is paying its rent this week for sure. I even dusted off my notational skills and wrote out a couple of instrumentals. Only one more song to record and I will be ready to send the form in again.
Not much going on up at camp barefoot this week. Bryan got some of the wood into a nice little stack in the vestibule, but he has been working all week and otherwise occupied. We will try to bring in some more wood this weekend. Should start to see some real snow here soon.
Dave invited me to play a slot at the IAMA (Intermountain Acoustic Music Association) invitational coffeehouse tomorrow. I haven't played solo in a long time, so it should be for some good fun.
Took pictures of this morning of the tent with the quick cam and the Powerbook. Worked well in the end, although I only had a couple of minutes of power. PhotoShop fixed the bad contrast and voila, Camp Barefoot is in the movies--or at least in the pictures. Not bad for a free (give-away) camera and a rescued-from-junk Powerbook--the only thing I paid for was the battery!
Wednesday, October 28, 1998
Had a good little set at the coffee house on Friday night. Played 5 tunes, including one older folk tune that got all the people there singing. I guess I do have a little of mom's songleader gene in me. I definitely presented my own little style to the crowd there--and I am very pleased to have been able to do that. Sometimes you stand out by being simple.
Still haven't heard from Mary Beth yet, and that does not bode well. Bryan and I have already begun to talk about the next move. We are going to try to find a guitar/vocal/other to add to us and make some kind of project so we can start playing. If Mary Beth does ever call, we can move from there. But this is not Kosher.
Monday, November 2, 1998
The alarm has gone out--the imperials are coming. Time to evacuate camp Barefoot before they get us (I've been way too into the Star Wars world lately). The Forest Service just found us and decided to remind us of the 14 day limit. So we have moved into super-move mode. Bryan took the van down today with all of his stuff. I will do wood dispersal tonight--put some near the road in various places and spread some around up here--so that we can't be linked to the 3 month supply that we have gathered. We will probably have to write most of it off as a loss, but more can be obtained.
The Forest Service people were nice enough, but made it clear that we needed to move on. So move on we will. We should be able to drop the tent on Thursday and be all the way out of here. Seems the spirits did not want us to stay in this spot for the winter. At least we did not get caught with the big load of wood we had just, and I mean just, brought in.
So once again our plans change. At the very least we are getting plenty of practice in flexibility. We've had musical flexibility, and now housing flexibility. When we set up again, however, it will be on some sort of permanent location. We will look into Fred's land or Ricky's, at least as a temporary solution. Once I get some employment happening we will look for land again. Our incomes together should be plenty to get something in the range we are looking for. As they say, moving right along...
Wednesday, November 25, 1998
So much has happened since the last entry that it is hard to know where to start. Wood dispersal went as planned. I got all of it moved that night and we cleaned out the rest of camp a few days later. After a week or so of recuperation and option hunting we were ready to set up shop again. On Monday (11/16) we moved all our assorted schwee up to a location in Summit Park, about a mile back from the highway. There is at least a reasonable chance that this is Forest Service land, so we at least have good intentions. Hopefully we will not be bothered up here--the land is not patrolled so we should be reasonably safe.
So camp is now set up. We patched the rainfly (and the tent after we put a nice little hole in it) and should be setting it up tonight. We did our best to level the ground out; the tent is crooked but it could be much worse. Due to an idea from Joe, our sleeping pads are now resting on 2" rigid foam insulation. This stuff seems to have helped in keeping the cold from seeping up through the floor. And it was cheap to boot. I may add some soft foam as well to make a mattress-like object.
Camp is a fairly sparse affair. Winter mode means backback mode. The only thing I leave in the tent is my sleeping system. Everything else travels with me all the time. Makes camp be a little more temporary looking, and makes for good exercise and a nice feeling that I always have all that I need with me all of the time.
Tuesday, December 1, 1998
Can't believe it is actually December. Last I knew it was August! 1999 is right around the corner. Tent life is going well, except for the lack of snow. Our floor is rapidly disintegrating, and the trip up here has large patches of mud to navigate. We need snow!
Bryan had a tent run-in with the sheriff. Seems we were reported as suspicious. The cop said that we wouldn't be evicted unless the land owner (if applicable) complains. So hopefully all will be well.
Thursday, December 10, 1998
And the word for the season is--flexibility. Got kicked out of the Summit Park site this week. Once again we find ourselves camped, so to speak, at Dianne's house. The next plan calls for a more housing oriented situation. While the practical of tent living was manageable, the regulatory proved insurmountable. We will have to wait until we own some land to try this again.
Now the mission is to keep up the work I was doing in the woods. More reading, more self-discovery. Got to keep on the fiscal responsibility and physical betterment paths as well. I found the peace in the woods--now I have to translate that into the greater world. Must keep the simple life going in this crazy world. Maybe the next word of the day will be patience.